If you have trouble printing from this window, click here to open these directions in a new window.

Visiting Daybreak

Visiting hours are by appointment only, as we share our time between two locations. Generally we receive visitors at our Branford location, and usually sample objects for dating there.

Branford facility:
11 Sycamore Way, unit 110, Branford CT 06405
From all directions:
Take I-95 exit 56 (Leetes Island Road, 6 miles east of New Haven). From the west, turn left at the exit and proceed for about 0.5 mile to Boston Post road where Leetes Island Road ends. Turn right on Boston Post Road and go 0.5 miles. Take the first right, Sycamore Way, and proceed 0.3 miles to 11 Sycamore Way, Gray Eagle Business Park, which is on the right. Take the driveway to the right just after the Gray Eagle sign. You will pass between two long brown brick and tan block buildings. We are in unit 110, half way down the building on the right. There is a sign above the door and parking in front. From the east, take a left off the exit onto East Industrial Road and go a short distance to Leetes Island Road, where you will take a right and proceed to Boston Post Road. Continue as above.


By rail from New York City:
Both Metro North (the commuter rail line) and Amtrack go to New Haven. The Metro North trains leave New York's Grand Central Station 7 minutes past each hour, and more often during rush hours. Travel time to New Haven is 1:50 hours. You may get a cab at the station.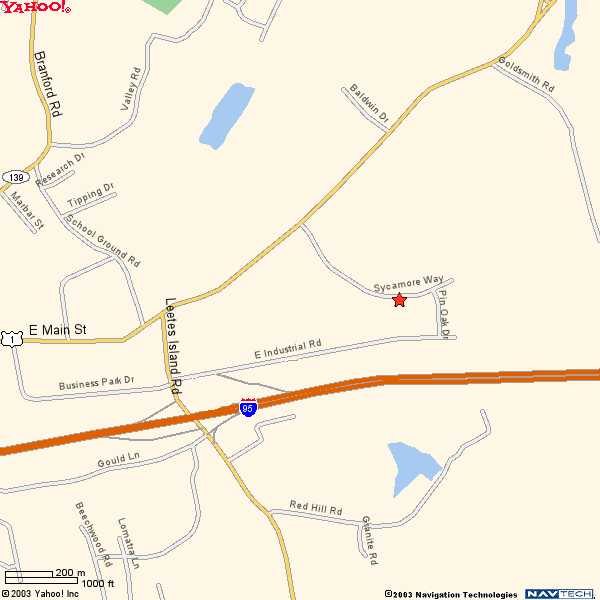 Guilford Facility:
50 Denison Drive, Guilford CT 06437
Daybreak's Guilford production facility is 10 miles east of New Haven CT, close to Interstate 95. It is about 1 3/4 hours' drive from New York City, 2 1/2 hours from Boston, and less than 1 hour from Hartford.
Driving directions:
From the west:
Use 95 North, and proceed past New Haven, getting off at exit 57 (Guilford-Boston Post Road). Take a right off the exit onto the Post Road (route 1). This has you going east toward Guilford. Go 0.4 mile, and take your first right, onto Peddlers Road. This intersection is difficult to see from that direction, but there is a farm market on the left with a big 3-D red apple on the sign by the road, just a little past the turn onto Peddler's Road. Slow down and turn on your signal when you see the apple. Don't go past it! Go exactly 1 mile on Peddler's, then turn left onto Denison Drive. About 75 yards up Denison there is a blue mailbox (number 50) on the left. Take this drive to the very end (500 feet). There is a sign (Daybreak Nuclear) on the right corner of the building. The office door is around the corner to the right.
From the east:
Use 95 North, and get off at exit 58 (Guilford-Route 77). Take a left off the exit and proceed 1/3 mile to the Post Road (route 1). Go right on route 1 till you see the red apple on the sign for Bishop's Orchards on the right (1/2 mile). Immediately past the apple and Bishop's parking area, take a left onto Peddlers Road, and proceed as above.
From the North:
Take Interstate 91 from Hartford south to New Haven. Get onto 95 and proceed as from the west.